Restaurant & Lounge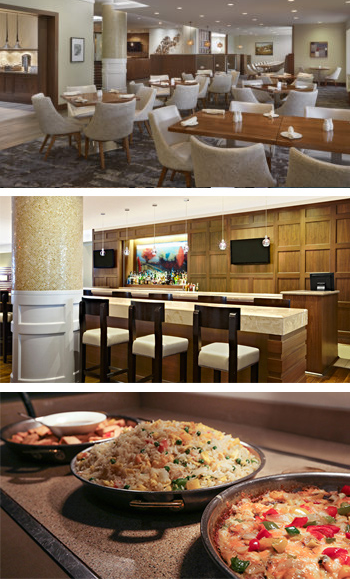 The BEST WESTERN Parkway Hotel Toronto North is an excellent place for business travelers and those here to explore the wonderful sights of Canada, and is made only better with the convenience of an on-site restaurant and lounge.
Our upscale casual restaurant, Crave, is a combination of modern decor and an internationally inspired menu.  Our full-service restaurant is perfect for families, business professionals, and social or romantic dinners.
Crave is open:
Breakfast: 6:30am-10:30am
Lunch: 11:30am-1:30pm
Dinner: 4:30pm-10:00pm
Sunday Brunch: 12:00pm-2:00pm
Crave boasts a great menu that includes such items as:
Appetizers (including 'create your own cheese board')
Soups & Salads
Sandwiches & Burgers
Delicious Main Courses (Angus New York Steak, BBQ Chicken Wings, Filet Mignon, Butter Chicken, etc.)
Pizza Hut Express items
If you're looking for a place to unwind after a busy day of meetings, athletic adventures or sightseeing, there's no better spot than the Spirits Bar & Lounge, located right on the premises. With a relaxed yet sophisticated atmosphere, it is easy to enjoy good drinks and great company.
With such great hours, the Lounge makes it easy for guests to stop by no matter what their schedule is:
Monday-Thursday: 11:30am-1:30am
Friday & Saturday: 11:30am-2:30am
Sunday: 12:30pm-12:30am
The Spirits Bar & Lounge offers a great variety of drinks to choose from, and even offers snacks, sandwiches and hamburgers.
Drink varieties include:
White wines
Red wines
Champagne
Specialty Cocktails
Margaritas
Martinis
Mojitos
Pick up take-out from Crave or the Spirits Bar & Lounge and relax in the comfort of your spacious room with a great movie on our cable TV.  Our Richmond Hill hotel provides just the right touch of relaxation and luxury to make your vacation perfect.